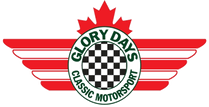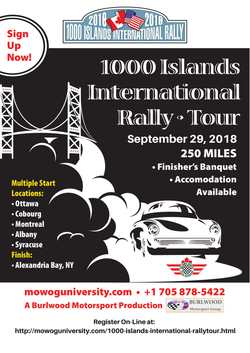 ---
---
January 5, 2018
NEW EXPANDED SCOPE FOR 2018 TO INCLUDE TSD RALLY!!

We are still working out the details but here is what I can tell you right now about the 2018 - "1000 Islands International Rally" - EXPANDED SCOPE!

New for 2018, we are providing entrants with two options:

1) a fun TSD Rally (time/speed/distance) available only to Ottawa and Cobourg Starters. It will be suitable for beginners and experts alike. The TSD rally will start on September 28 and finish on September 29 with an over night stop in Belleville, ON. The TSD Rally is only available to Ottawa and Cobourg Starters. It will include a number of TSD Rally Sections plus "Special Stages" including on-track sessions at Shannonville Motorsport Park. Special Awards by class and finish will be provided on completion.

We will be updating the REGISTRATION very soon to include the TSD Rally. In the meantime, you can follow the links below to register for the Rally Tour.


2) a non-competitive, completely enjoyable Rally/Tour. Crews will follow the route using rally-style instructions for a relaxed "Walter Mitty" rally experience. This will start and finish on the same day.

Both options will comprise an approximate 200 mile drive event. The routes utilize interesting all-tarmac roads. We guarantee that the the event will make for the perfect motor outing for those who like a bit of a challenge. Crews will traverse the countryside through quaint towns and villages and will be met by fabulous scenery and impressive vistas. The event is a virtual "Rolling Car Show" with a Twist!

In the fashion of the great European Rallies, participating cars and crews will start the Rally from six different locations including Ottawa, Montreal, Cobourg, Scranton, Syracuse, Albany. Nearing completion of the various routes, crews will converge on the Finish Location which is the luxurious Edgewood Resort in Alexandria Bay, NY.

Rounding out the event, the evening will offer a Celebration Banquet Dinner complete with awards presentations and good fellowship. Resort Accommodations are available at a special rate. Rally decals and event apparel are made free and available with registration.

The event is open to all including vintage, historic, classic and exotic cars or motorcycles.


---
2018 INTRODUCTORY BOOK

Learn more about The Rally/Tour and the TSD Rally. Find out what makes them different. Learn about the TSD's Special Stages. Read the interesting history of the historic Thousand Islands Rally dating back to 1952. See an example of the 2016 Route Book. Just click on the link below.​
1000 Islands International Rally/Tour

September 29, 2018
This fun event highlights the beauty of the Thousand Islands paradise found in the midst of the St. Lawrence Seaway at the Canada/US border.
The "1000 Islands International Rally" is designed to emulate the classic European rallies and particularly the world famous Monte Carlo Rallye, with cars being flagged off from multiple "Start Points" and converging on the Thousand Islands. P
lanned "Start Points" will be located in Toronto - East (Cobourg), Ottawa, Montreal, Syracuse and Albany, subject to enrollment.

Alexandria Bay, New York will serve as the end point for the 2018 event. Future years will see the finish point continue to alternate annually between the neighbouring communities of Alexandria Bay and Gananoque, Ontario on either side of the great St. Lawrence River, making this a truly International Event.
The Rally will be offered as a Touring Event. Distances from each start point will be approximately 250 miles or 6 hours of drive time. Route instructions will be provided and a Rally - ending celebration at the
Edgwood Resort and Conference Centr
e, a 1000 Islands favourite, will cap off a great day.
We have arranged for special participant group rates at the Edgewood for luxurious accommodation. Riverview rooms will be $159 with Harbourview and Waterview rooms at $139.
(TERMS: Rates are based on double occupancy per room per night. $50.00 Extra Person per Room per Night. Rates are subject to NYS sales tax & 3% occupancy tax. Rooms are Self – Pay. Check in time is at 3:00pm Check out time is 11:00am. Each guest will be responsible for booking and guaranteeing his or her own reservation, securing it with his or her credit card.
Cancellation Policy: Cancel 3 days prior to arrival date No Charge beyond 3 days charge is ½ of the total reservation. No Shows are charged full to credit card on file.)
Participation in the Rally Tour will be open to all makes and models of cars and motorcycles, including modern, vintage, historic and classic, hot rods, and exotics.
Join us for a great North American motoring experience!
NOTE:
We are actively seeking the cooperation of local motor clubs and enthusiasts in the preferred "Start Point" areas to assist us in staging this fabulous new event. If you or your club would like to be part of this adventure, please contact Bob DeShane.
---
Event Pricing
8ou are sure to find just the right solution to suit your desires and your pocket and we make it easy to decide. Pricing is in Canadian dollars.

The basic Touring Package is priced at at $200. It includes one embroidered event polo shirt in a choice of colours and sizes, one small event decal, route instructions an an opportunity to qualify for an award.

The Grand Touring Package is priced at $380 and includes two embroidered event polo shirts in a choice of colours and sizes, two small event decals, two souvenir Wall Plaques. dinner for two at the Celebration Awards Banquet, route instructions and an opportunity to qualify for an Award.

To compliment both Packages, entrants can choose to purchase additional optional items including embroidered event shirts, banquet tickets, event rally decals, event plaques, T-Shirts and hats.

On receipt of your registration, we will mail any polos, T-shirts and hats that are forthcoming in order to let you get into the spirit of the event!

​Registration will close on September 27, 2018.

Special Pricing is provided for Christmas (if purchased by Dec. 15, 2017) and Early Registration (before June 30) and a Late fee will apply to registrations received after August 31, 2017.

All of these choices are provided in the on-line Registration. Click below to explore the Registration Form.

Pay Pal is our payment system provider. Completed registrations can be paid with a Pay Pal account or by credit card. It is easy and fast. If you have any trouble at all, just call us at 705-878-5422. we will be happy to help.
---
---
MEDIA CREDENTIALS
- Click
here
to request credentials
---
---
2018 Rally Flyer - Download & Share!
Start Locations:

COBOURG - TBA

OTTAWA - TBA

MONTREAL - TBA

ALBANY - TBA

SYRACUSE - TBA
---
Explore the 1000 Islands!
1000 Islands Tourism - extend your Rally experience by visiting the myriad of attractions to be found in the area. There are just so many things to do, it is impossible to list them. However, to assist your planning we direct you to the following local links for the American and Canadian Tourism bureaus. Enjoy!
Click
here
for the link to Alexandria Bay, NY Tourism Information
Click
here
for the link to Gananoque, ON Tourism Information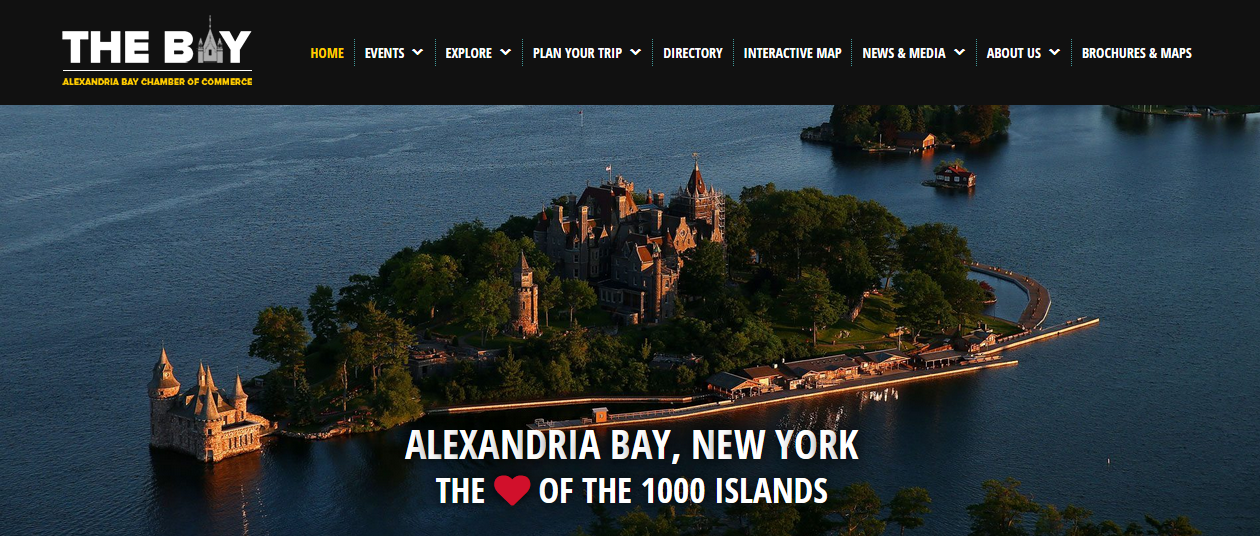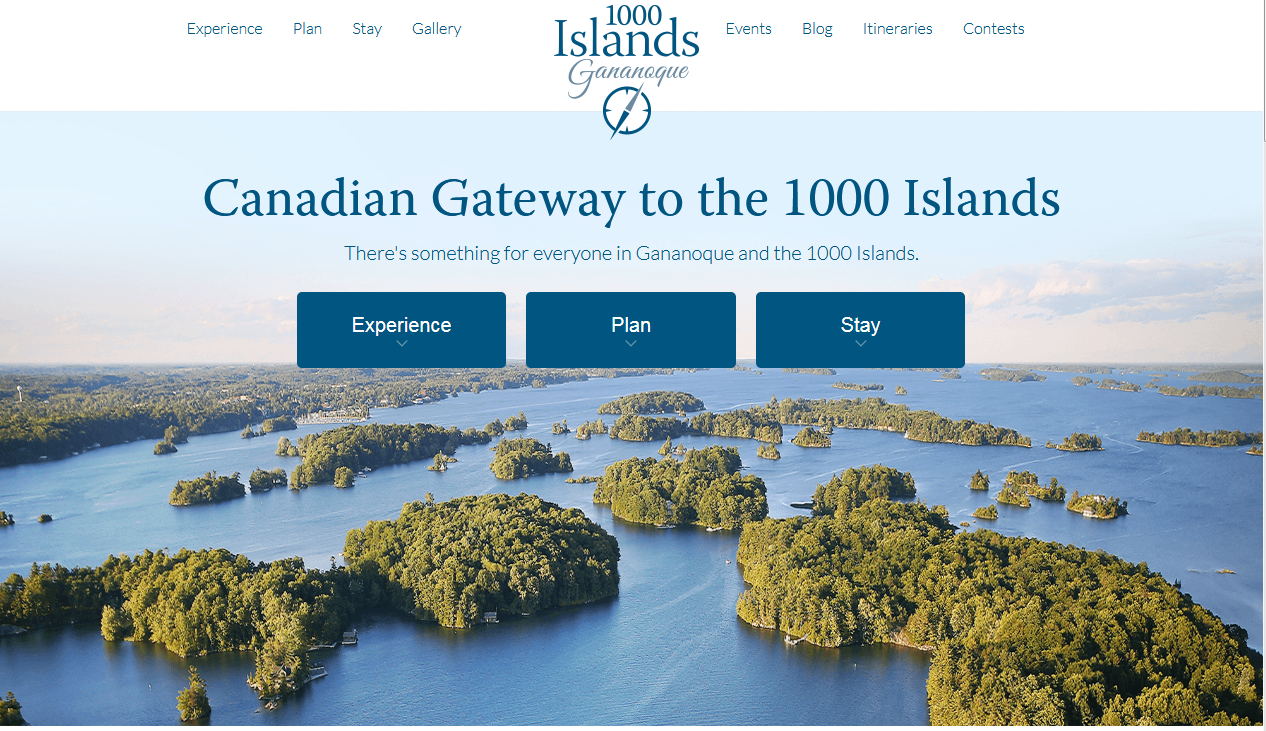 EVENT REPORT - 1000 Islands International Rally/Tour - 2016

With cars starting in both Cobourg and Ottawa (Carp), the day dawned to perfect blue skies, warm temperatures and glorious anticiaption of what lay ahead. Fortunately, as the Organizer, my work was mostly done until all would arrive at the finish destination. So, with briefcase and trophy/plaques in hand I mounted the trusty XJS and headed south-east to meet up with the folks starting from Cobourg.

RallyMasters Diane and Al Weller are used to these sorts of things what with Al being raised in a sportscar and motorcycle family with his father playing a prominent role in the development of motorsport and motor clubs in Ontario. I guess you could say that it has rubbed off on Al because he has more cars and motorcycles than you can shake a stick at. He is also involved in clubs for both cars and bikes and he and Diane shepherd the local branch of the British Saloon Car Club of Canada, more afectionally known as the "Eastenders". Al also has had an "on gain, off again" career as a racing driver, most recently in a Sunbeam Alpine that has a history reaching back to the very pinnacle of early sportscar racing in Canada. Al now races with VARAC. As as you might guess, they were pretty easily bamboozeled into volunteering to be the RallyMasters for this portion of the event.

Up in Carp on the outskirts of the Nation's Capital, Jeff Ackert was getting things ready along with fellow RallyMasters, Gail and John Kinnear. Jeff has been a friend or kind of like a nephew for over thirty-five years and always a motorsports kind of guy with roots my Alma Mater, the Peterborough Motor Sports Club. John and Gail are involved in the Boot and Bonnet Club, the St. Lawrence Motorsport Club and John races an MGB in Historic Racing with the Vintage Automobile racing Association of Canada. BINGO! Both great guys to get involved as RallyMasters for the Ottawa Route.

We also had fantastic RallyMasters and routes lined up for the Montreal and Syracuse starts but unlike the Rolling Stones, time was not on our side and we had to scrub the routes for this set. However, those route books are just resting in Top Secret files, waiting to be driven in 2017. Our RallyMasters Ian Pavelko (Montreal) and Frank Beyer (Syracuse) are both top of the line motorsport and rally folks and it was a pleasure working with them I can't wait to see those Starts up and running next year!

OK - back at Cobourg, I joined up with the group at Al's chosen Start location, Tim Horton's Coffee Shop at the Northumberland Mall. Everyone looked so good in their crested event shirts!

The group waiting for the start consisted of Kathryn Harris (Toronto) and her "little brother" Greg (who had flown in from Denver) to navigate for Kathryn in her new toy, the 2011 Porsche C4S Cabrio, Synthia and Klaus Bogner were down from Alliston had their beautiful 2012 Aston Martin Vantage, Gord and Fanny Linkletter (Waterloo) were in a lovely '73 Triumph Stag, John and Mary Vander Muelen from Cavan brought their air conditioned Chevrolet (the heat has been too oppressive to bring out John's heat-pumping AMX muscle car), Dorien and Ann Bertiletti from Mono Mills had arrived with a fabulous little Alfa Romeo Zagato 1300 (one of only two in Canada) and Richard and Lisa Doyle from Bridgenorth drove their venerable TR6. Also present and offering enthusiastic support were some of Al's Eastender flock, Paul Wilson (MGA Twin Cam), Roy Mercer (MG TF) and Peter Revo (Austin A35).

I volunteered to be first car out so that I could secretly find a comfortable ditch from which to photograph the rest of the pack as they made their way......but only a few corners into the route, some were already lost! I won't say who, but really that guy from Denver....sorry Greg! Just kidding...

The route was well put together with lots of great driving roads, turns, vistas and things to do, like stopping at wineries for a little tasting and purchase of a bottle or two to take home. Prince Edward County offers loads of wineries besides some of the prettiest countryside and pleasantly peaceful little villages. The Glenora Ferry adds a nice touch as it connects portions of Highway 33. Diane and Al's route made for a fabulous way to spend a day which was then made even better with my arrival at the Glen House Resort and its comfortable bar and lounge on the banks of the great St. Lawrence River and the 1000 Islands.

Meanwhile, Jeff and John's bunch went from Carp to the race track at Calabogie for a few laps before heading south through some of the most beautiful country that God ever made. Apparently, the race track was a BIG HIGHLIGHT! In that group were John and Catherine Hopkins of Ottawa in their muscular, red 2004 Dodge Viper, Patricia Burke and her party from Gatineau, Quebec in her absolutely beautiful 1955 Chevrolet Belair and others. Jeff and Cheryl Patterson. The two Norms (Father Norm - Ottawa, son Norm - Sudbury) along with Grandson/Son - Joey of Ottawa in a Meyers Manx were welcome last minute joiners, having just heard. But their enthusiasm was overflowing and they promised to be back in 2017 with friends!

After a goodly amount of time making new friends in the lounge, our party of twenty-five were seated for what was a lovely dinner to cap the day off. I was very happy to thank everyone for making this a successful and memorable event and to present the participants and the RallyMasters with commemorative plaques of the inaugural 1000 Islands International Rally/Tour. Each of them can be proud that they were the start of something great and worthwhile and an event that will grow to become a tradition in the future.

Below, you will find photos taken throughout the day and evening.
---
---