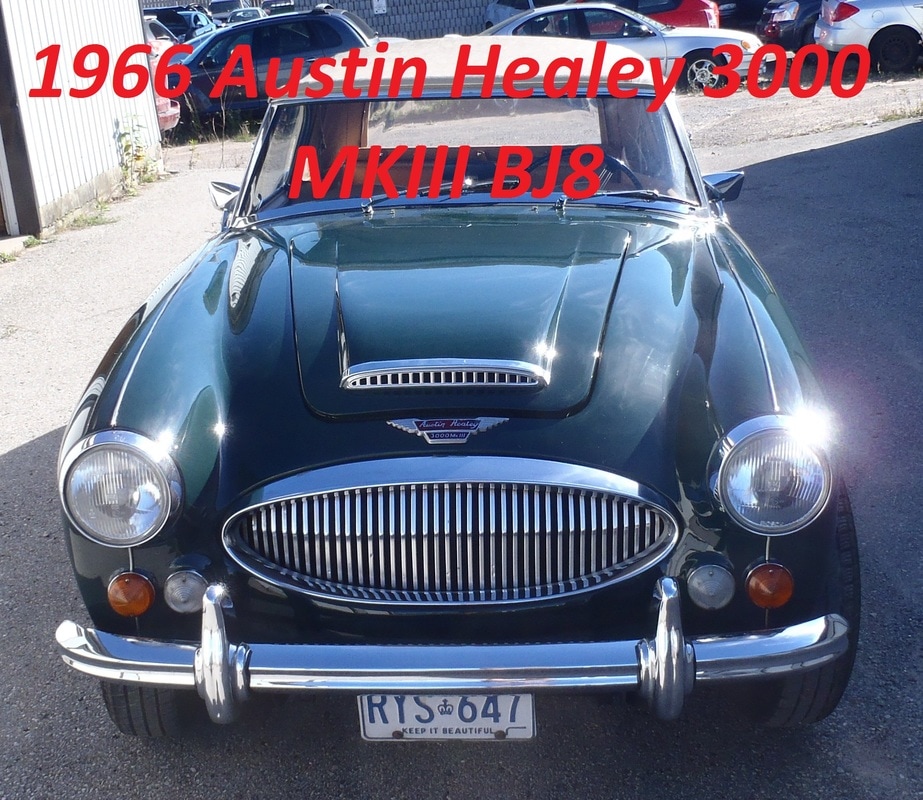 "Big Healeys" began production 1953 as the Austin Healey 100 or BN1. Through the years, they evolved through 4-cylinder power units to 6-cylinder 2912cc engines and both 2-seat roadsters and 2+2 roadsters.
This car is the last of the model lines, being a Mark III, BJ8 model, 2+2 roadster.
The current owner purchased the Healey
(VIN# 35639)
in 1980 from Mike Saulter's Precision Sports Cars shop in Richmond Hill.
The initial body-off, ground up restoration was completed the following winter (1981) by Auto Classics, a restoration shop on Laird Drive in Toronto. It was refinished in the original BRG with black interior and top.
Following several more years of storage, a second restoration was completed about ten years ago by Headley Murray, who was the same fellow but now at a different shop in Pickering. Once again, it was a complete body-off, ground up assignment. This time, the top and interior were changed to tan and the body was resprayed in BRG but with tan side accents.
The wire wheels and knock-offs were replaced with new chrome Dayton's on Hankook 165R15 tyres about 5 years ago by Andy Hertzberg, who has also done all the subsequent mechanical work at his shop in Port Perry and now in Uxbridge.
The car has traveled well with numerous trips to the U.S. over the years...New York, Penn.,Michigan, Ohio, with never a problem. It's always been dependable and always starts. In the past 10 years there have only been about 500 miles added to the odometer reading and the car has been kept in clean, dry storage.
Today, the car is in very nice condition and ready for a new home. the 2016 Insurance Valuation Appraisal set the value at $85,000CDN. A market search reveals that similar cars are priced at about $70,000US.
The BJ8 is offered at a very reasonable $65,000 CDN.
Call to discuss at 705-878-5422 or
email
---