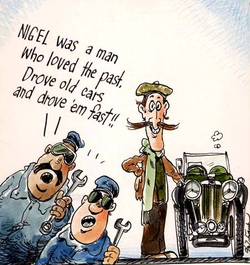 Nigel Shiftright, 13th Earl of Bolton
Nigel Shiftright has been called an automotive anachronism, but call him what you will, he stands above the crowd in the annals of post second war sports car lore.
Supposedly (or in actual fact - depending on your personal state of denial and view of reality) Nigel was the creation of Joe Troise and Phil Frank. The result of their combined brilliance graced the pages of Road & Track Magazine for about twenty years, becoming for many the first thing they turned to on opening the magazine in order to learn of the latest adventure.
The Nigel character was characterized as a scarf wearing, RAF
Flying Ace turned ex-pat racing driver, who continued his fight against the enemy on the roads and streets of California.
To quote Phil in a SF Chronicle article in 2007 "Nigel is an Anglophile, loving all things British and imagining himself to be an unrecognized member of British royalty living in the United States with a fleet of spindly-wheeled old cars at his estate on Flapping Bonnet Lane.
Nigel refuses to ride in any "sports car" that has electric windows. He also has personal conversations with his vehicles and lives out imaginary dog fights and battle scenes with lumbering American cars on his local roadways, all to the great amusement of sports car owners, who in many ways identify with his traffic frustrations and keen loyalty to British cars.
Joe Troise, in a recent interview said this about those days:
"What made Nigel unique, however, were his fantasies. Nigel would go into these fantasies about where he was or who he was. And only at the very end of the strip did he get jolted back to reality. That was kind of the formula," Troise explained.
In that first episode, called Dawn Patrol, Wing Commander Shiftright is crossing the Golden Gate Bridge when he finds himself in his fighter plane with his arch-rival Baron von Stockbroker in his sights. A dogfight ensues and using an Buick Electra 225 for cover, Nigel fires on the Baron, in his BMW.
In the last panel, a bewildered BMW driver is covered with little suction cup darts and mutters to a policeman, "This old coot in an ancient MG started shooting darts at me."
You can read more of that interview of Joe Troise by Larry Sanata of Classic MG Magazine
here.
Where is Nigel Now?
After his long run of celebrity, Nigel's eccentricity lead him to drop completely out of sight and to the hermit lifestyle at his expansive Burlwood Estate. However, Nigel has not at all been idle. In his "Howard Hughes - like" recluse, he has been very busy as a philanthropist, founding MOWOG University, where he is now a lecturing Professor of Archaic Technical Languages. The University Board of Governors recently appointed Nigel to the prestigious Cecil Kimber Chair.
A long time supporter of motorsport, Nigel has invested a considerable fortune into reconstruction and transformation of his estate, a former WWII Bomber Training Base. This work has produced a first class motor racing facility in the same fashion as that of his distant cousin's ever so popular Goodwood Road Racing facility at Goodwood House in England.
The University and BURLWOOD Circuit are keeping Nigel very busy these days.
The
BURLWOOD ROAD RACING COMPAN
Y
is the outfit that Nigel Shiftright established to develop the area of his Burlwood House Estate on order to transform the former WWII Bomber Flight Training Base into a fabulous racing circuit reminiscent of the circuits he grew up knowing in jolly old England.
The facility retains one of the original tarmac air strips and a grass strip and taxiways plus two hangars. These have been preserved and updated for continued private use by the Wing Commander and a few of his good friends. Additionally, Nigel keeps a collection of pre and postwar racing and sports cars, mostly MGs in one of the hangars, while the other houses a recreation of his favourite pub, the "Whitworth Arms".
---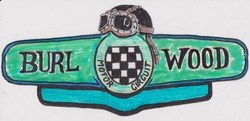 BURLWOOD MOTOR CIRCUIT has been constructed in the spirit of the great British motor racing circuits of the immediate post-war era, and is amazingly similar, in fact it is a direct copy of the world famous Goodwood Motor Circuit. As such, it is the only classic motor circuit in North America to offer the style and ambiance of the heyday of British and European motorsport. The facility has been sympathetically created over these past many years in preparation for the inaugural Burlwood Revival in the fall of 2015. Thanks to the significant investment of capital and the arduous and painstaking work, the beauty of the park-like setting, Burlwood makes a perfect playground for all motorheads.

Stay in touch with Nigel on Twitter and Facebook!

---