---
---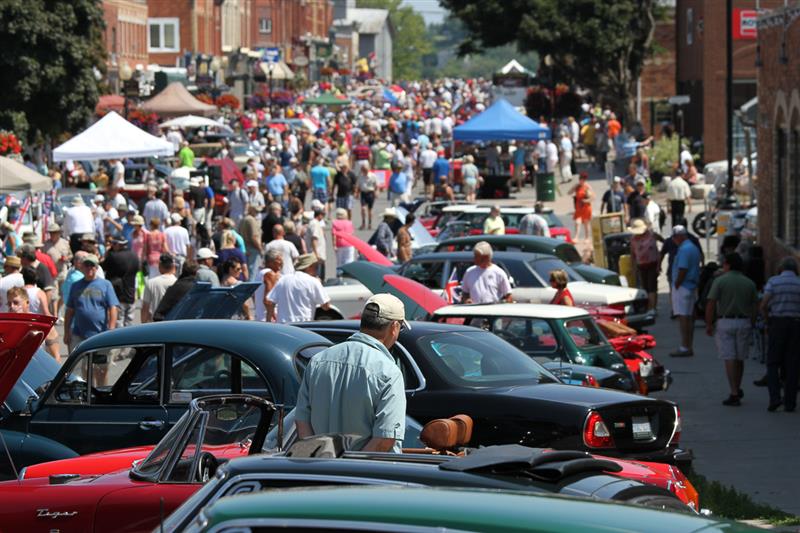 ---

Click on the Play arrow to hear what Classical103.1fm.com
​has to say about BRITS!
---
PLEASE, JOIN US!
B
e our guests in Port Perry on the weekend of August 12 & 13th, 2017 for the
fabulous
Brits on the Lake
Classic
Motoring Revival. It is the British motor event with a heart!
Click here to Like us on Facebook!
BRITS on the Lake
Classic
Motoring Revival goes ahead rain or shine! We have had both types of weather. Mostly it has been SUNNY!.
If it does rain, the shop keepers will be more than happy to shelter you until the sun comes back out. That is one of the truly wonderful things about our show - there is always somewhere inviting to explore!

Bob DeShane says: "If you are one of the owners who has the good fortune to have a British car, you owe it to the people that enjoy seeing them to bring it out and show it! There is no better place to make an impact and please more people than right here at BRITS ON THE LAKE in beautiful, historic Downtown Port Perry."
GUYS LIKE IT!
In fact, many of our male guests tell us that BRITS on the Lake is the only car show that their wives do not want to miss because of the fabulous shops and great shopping that awaits them in Port Perry! Our gracious hosts, the Downtown Business Improvement Area members also go out of their way to make sure that the kiddies have a good time too.
KIDS LIKE IT!
Face painting, a petting zoo, electric car rides have all played a part and of course, there is the lakeside (Palmer) park with its splash pad! We will update this as soon as we learn what they have in store for the kids this summer.
FAMILIES LIKE IT!
Of course, another point of interest is the annual Valve Cover Car Races hosted by the Durham East Enders British Car Club. The DEEBCC donate funds raised to the Port Perry Hospital Foundation and we thank them for their valuable support.
CHURCH LADIES LIKE IT!
Isn't that Special??
Another not-to-be-missed offering is made by the Anglican Church of the Ascension, located just off Queen Street. Each year they provide a truly authentic English Afternoon Tea on their front lawn - VERY Civilized!
So, you see, our 9th Annual Revival promises to be the most enjoyable British car/bike/commercials event that you will ever experience!
Watch this space for updates and registration information. Sign up for our mailing list to receive regular updates.
Join the Club
and get involved!
---
MEDIA CREDENTIALS
- Notify us
here
to request Media Credentials
---
BRITS ON THE LAKE FLYER DOWNLOAD & SHARE
---