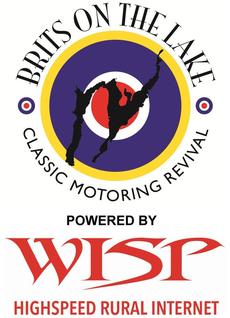 ---
2017 BRITS WEEKEND EVENT SCHEDULE

Birdseye Park Saturday Aug. 12 - "The Lakeside Lark"

This will be a fun day out for all set in beautiful Birdseye Park. The soothing tranquil atmosphere of this lakeside paradise is the perfect spot to host the day's events and from which to observe the submarine races by night, should it appeal.

10:00 – 16:00 British AutoJumble & Car Corral
A collection of vendors selling British cars and
motorcycles as well as hard to find spares, motoring accessories and other British motoring related products.

The Car Corral presents an ideal opportunity to buy or
sell a British Motor Car or Motorcycle. NOTE: The Car Corral will relocate on Sunday to an area adjacent to the car and motorcycle show.

"For sale" signs are not permitted within the Show area and are restricted to the Car Corral. Vehicles for display in the car corral must be of British manufacture Vehicles included in the Car Corral are not eligible to compete in the Peoples' Choice Judging or receive Awards. Refer to Registration information for pricing.

10:00 – 16:00 Commercial Vendors
A collection of Vendors offering British, and British like
products and services which will be of interest to anyone with a "British Taste".

NOTE: Vendors will relocate on Sunday to assigned areas within the car and motorcycle show. Read inclusions below. Refer to Registration information for pricing.

11:00 – 16:00 Picnic & Tailgate Competition
A display of creativity, good food, and things British. This event promises to be a "Classic" and perhaps one of the highlights of the entire weekend.

Awards presented for "Most Elegant", "Most Creative", "Most British".

Pre-Registration is encouraged. Refer to Registration information for pricing.

16:00 – 17:00 All British Driving Tour
Leaving from Birdseye Park - An all-tarmac, driving tour through the scenic Scugog Township country side, taking in vistas of the lake and pastoral meadows mixed with quaint villages and hamlets. The Tour is open to all Registered participants. The Tour will culminate at the Old Flame in Port Perry. Early registrants may wish to purchase tickets for the Registrants' Reception. See Registration information for pricing.

17:00 – 19:00 Registrant's Reception
Be part of the official kick-off reception for this year's BRITS ON THE LAKE Classic Motoring Revival. The Registrant's Reception will be held at the Old Flame Brewing Co. (Perry & Mary Streets)

This Special Event is available only to registered participants and vendors. Passes will be provided. This is a perfect opportunity to renew old acquaintances and make new ones while enjoying the welcoming atmosphere of The Old Flame. Refer to Registration information for pricing.

18:30 – 21:30 WISP Party in the Park
Make sure to attend the WISP Patio Lantern Party in Birdseye Park featuring live music and entertainment, food, beverage and fun. Come and join the celebration of all things British. The park will be awash with people in a festive mood and, of course, British Machinery on two and four wheels to delight. Bring a lawn chair to ensure your comfort throughout the evening.

Passes or General Admission Buttons are required for admission and must be worn at all times. Everyone is welcome. Admission will be open to the public. General Admission $5 (Children Under 12 Free) will be available at the gate.

Downtown Port Perry Sunday Aug. 13 - "The Revival"

08:00 - Car & Motorcycle Show Opens

08:00 – 13:00 - Registration Open
Water & Queen Streets – Approach on North St. to Water St. (see map)

08:00- 15:00 - Car Corral Open

09:00 – 13:00 - Peoples' Choice Judging Open
Entrants must display their Dash Card in order to compete for awards.

Registrants will receive ballots in their Registration Packages. The general public may participate by purchasing the Event Program containing ballots for this fun competition. ($2).

12:30 – 12:31 - One Minute's Noise - A tribute to John Surtees: Surtees is the only man to have won the grand prix world championship on both two wheels and four. He died in hospital in London at age 83 on March 10, 2017. We will celebrate his life in a fitting way. Click to read obituary.

13:00 - Peoples' Choice Judging Closes
All voting must be completed and all ballots must be deposited into the Ballot Boxes by 13:00. There will be no late voting.

14:00 - Vintage British Dress Awards
This contest will reflect British period dress and attire. This fun event promises to be one of the highlights of the entire weekend. Anyone can enter. Awards will be presented for "Pre-war & Wartime Dress", "Post War 50's, 60's & 70's Dress" and "Motorsport Dress".

15:00 - Car Show Awards Presentation

​16:00 - Farewell!
Last changed 03/03/17