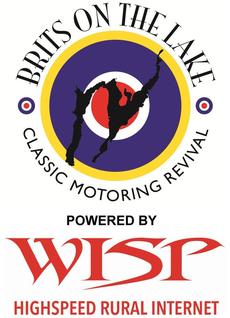 ---
2017 BRITS WEEKEND EVENT SCHEDULE

SATURDAY August 12, 2017 Events:

The following Saturday events in Birdseye Park have been cancelled due to lack of enrollment:

10:00 – 16:00 British AutoJumble & Car Corral

10:00 – 16:00 Commercial Vendors

11:00 – 16:00 Picnic & Tailgate Competition

18:30 – 21:30 WISP Party in the Park


Please, plan to take part in and enjoy these two Saturday Events which remain scheduled:

16:00 – 17:00 All British Driving Tour
Leaving from Birdseye Park - An all-tarmac, driving tour through the scenic Scugog Township country side, taking in vistas of the lake and pastoral meadows mixed with quaint villages and hamlets. The Tour is open to all Registered participants. The Tour will culminate at the Old Flame in Port Perry. Early registrants may wish to purchase tickets for the Registrants' Reception. See Registration information for pricing.

17:00 – 19:00 Registrant's Reception
Be part of the official kick-off reception for this year's BRITS ON THE LAKE Classic Motoring Revival. The Registrant's Reception will be held at the Old Flame Brewing Co. (Perry & Mary Streets)

This Special Event is available only to registered participants and vendors. Passes will be provided. This is a perfect opportunity to renew old acquaintances and make new ones while enjoying the welcoming atmosphere of The Old Flame. Refer to Registration information for pricing.

The MAIN EVENT!
​
SUNDAY August 13, 2017 Events:

Queen Street Port Perry Sunday Aug. 13 - "The Revival"

08:00 - Car & Motorcycle Show Opens

08:00 – 13:00 - Registration Open
Water & Queen Streets – Approach on North St. to Water St. (see map)

08:00- 15:00 - Car Corral Open

09:00 – 13:00 - Peoples' Choice Judging Open
Entrants must display their Dash Card in order to compete for awards.

Registrants will receive ballots in their Registration Packages. The general public may participate by purchasing the Event Program containing ballots for this fun competition. ($2).

12:30 – 12:31 - One Minute's Noise - A tribute to John Surtees: Surtees is the only man to have won the grand prix world championship on both two wheels and four. He died in hospital in London at age 83 on March 10, 2017. We will celebrate his life in a fitting way. Click to read obituary.

13:00 - Peoples' Choice Judging Closes
All voting must be completed and all ballots must be deposited into the Ballot Boxes by 13:00. There will be no late voting.

14:00 - Vintage British Dress Awards
This contest will reflect British period dress and attire. This fun event promises to be one of the highlights of the entire weekend. Anyone can enter. Awards will be presented for "Pre-war & Wartime Dress", "Post War 50's, 60's & 70's Dress" and "Motorsport Dress".

15:00 - Car Show Awards Presentation

​16:00 - Farewell!
Last changed 17/08/02