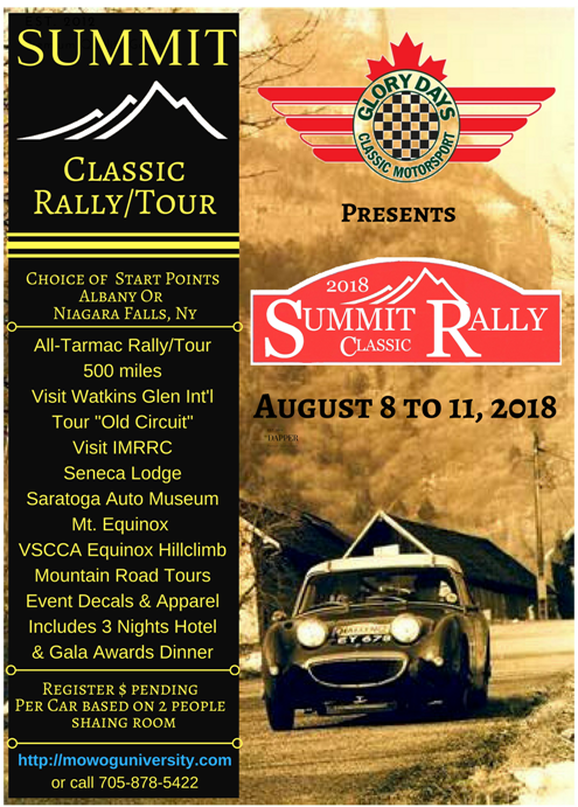 ---
SUMMIT CLASSIC RALLY/TOUR August 8 to 12, 2018

Join us for an exhilarating motoring experience!

Terms at a Glance:
The SUMMIT Classic Rally Tour will be offered as a three-day event for "Classic Cars" up to 1989 and Exotics of later manufacture.

Classes will include:
Vintage - up to 1962
Historic - 1963 to 1972
Classic - 1973 to 1989
Exotics - 1990 to present
Awards will be presented for qualifiers in each classification.
​
The event will begin with Registration to be held the evening prior to the Start. Route distances will be easily achievable within the day. Route instructions will be provided.
Participation is planned for teams of two persons per car. Exceptions will require approval of the organizer.

Rally decals (easily removable vinyl) will be issued for application on each side of the car and the bonnet.

Entry Fee (to be established by January 15, 2018 pending hotel confirmations):

$XXX.XX per Team
Event Details:
​This exciting event will see you piloting your own classic car along scenic country roads, through towns and villages, experiencing surprisingly beautiful vistas, awesome scenery and garnering adoring attention at stops. You will be guided along the route by real rally directions. You will visit world famous venues in Watkins Glen at the
Grand Prix
circuit and the
Orginal Street Circuit
and at the
Mt. Equinox Vintage Hillclimb
. It will also provide highlights such as visits to the
International Motor Racing Research Centre
in The Glen and the
Saratoga Automotive Museum.
The "SUMMIT Rally Tour" will see participants take the "Start" from two New York State locations. One group will start from the Niagara Falls/Buffalo area and the other from the Albany/Schenectady area. The western start location is easily accessible for participants from western New York, northern Pennsylvania and Ohio and Illinois as Central and Western Ontario, including the Greater Toronto Area while the eastern start location will be ideal for participants from the North Eastern States, eastern Ontario and Quebec. Exact start locations will be confirmed early pending ongoing completion of hotel arrangements.
The first leg of the rally will take rallyists over interesting routes that are planned to deliver a stimulating and pleasurable "
Last Open Road
" morning session. The routes for both Start Groups will converge on the Finger Lakes area for a refreshing combined lunch stop.
Following lunch, rally teams will transit to a planned stop at the International Motor Racing Research Center (IMRRC) where they will tour the facility and discover its trove of racing history. Then it will be off for a guided tour lapping the "Old Circuit". This route is steeped in history. It is where racing began here on the open roads surrounding the village of Watkins Glen. Rounding out the afternoon, we will pay a visit to Watkins Glen International Racing Circuit, home to NASCAR and the former home of the US Grand Prix.
After a full day, nothing will be better than dinner at Seneca Lodge, the traditional home to Grand Prix drivers and crews with its historic trophy laden Tavern Room and superb Roast Beef followed by a good night's rest (hotel confirmation pending).
The Friday Start will send rally teams off to make their way to the Saratoga Automotive Museum and lunch. Then it is on to Mt. Equinox for an ascent of the famous hillclimb route followed by a reception hosted by the Vintage Sports Car Club of America Hillclimb organization. Later, a well deserved rest is in store for the first of a two-night stay at a local hotel in the Manchester, Vermont area (hotel confirmation pending).
Saturday will offer participants some free time and optional pursuits such as touring the local area, driving Vermont mountain roads and visiting the local attractions (click
here
for a link to the Manchester Tourism Guide). Of course, many will want to get up close to the Vintage Sports Car Club of America Mt. Equinox Hillclimb Competition!
Saturday evening Rallyists will regroup and finish off this fabulous event with a Celebration Dinner including awards presentations and prizes.
NOTE:
We are actively seeking the cooperation of local motor clubs and enthusiasts in the preferred "Start Point" areas to assist us in staging this fabulous new event. If you or your club would like to be part of this adventure, please contact Bob DeShane.
2018 INTRODUCTORY BOOK

Learn more about The Rally/Tour and the TSD Rally. Find out what makes them different. See an example of the type of Route Book. Just click on the link below.​

---